Friends of the McCormick Observatory
The Leander McCormick Observatory has been offering education and public outreach programs to Virginians since its dedication in 1885. Visitors have twice viewed Halley's Comet at the public night program (in 1910 and 1985–86). On October 31, 1938, the night after Orson Welles' infamous dramatization of War of the Worlds, seventy-five students and residents of Central Virginia observed Mars through the 26-inch telescope to allay their fears of a Martian invasion. Currently over 4000 visitors, including over 2000 local school children, will attend education and public outreach programs at McCormick Observatory in a single year.
Friends of the McCormick Observatory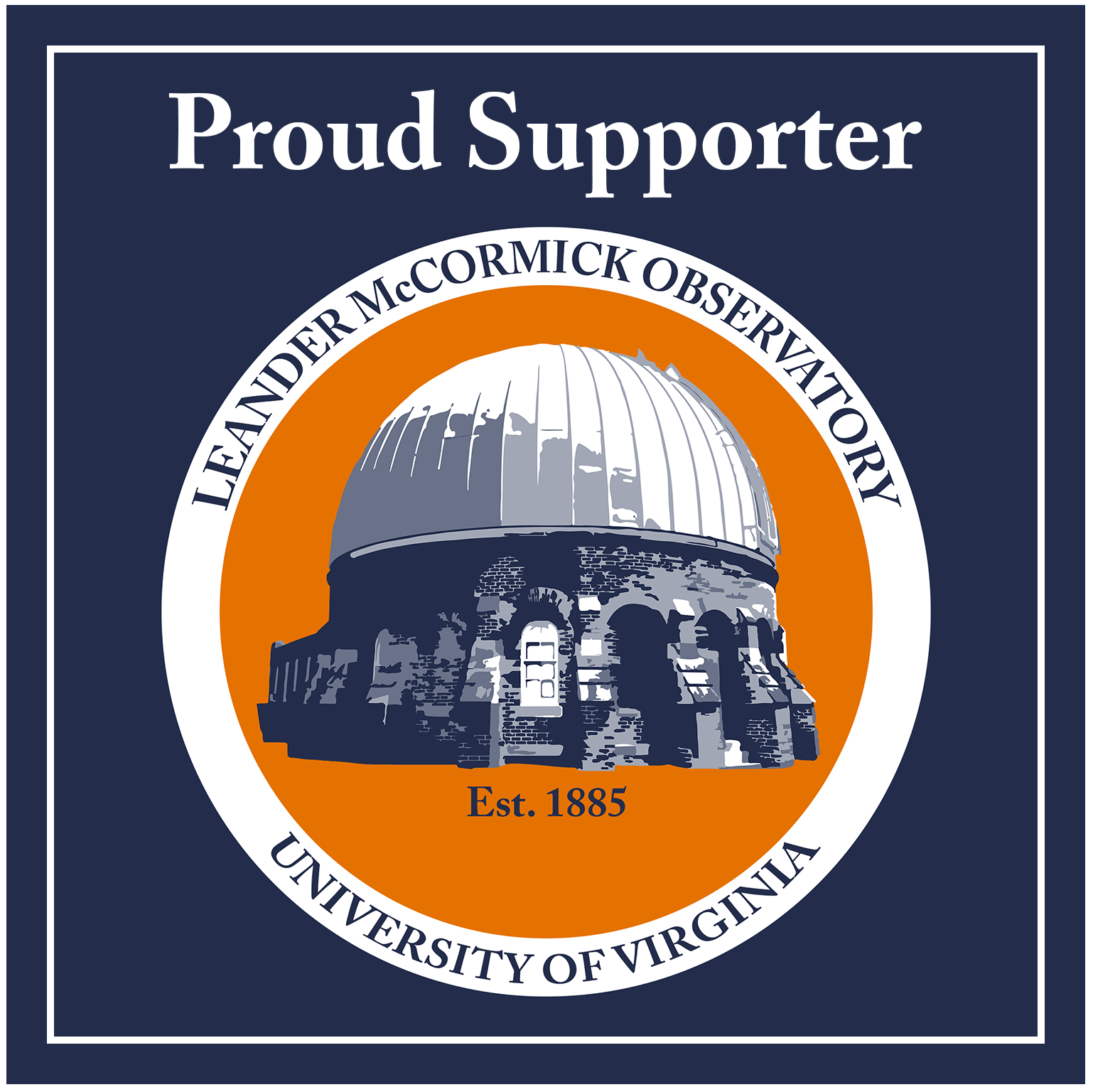 The Friends of McCormick Observatory membership is a vibrant community of astronomy enthusiasts and supporters who share a deep passion for the cosmos and the historical significance of the Observatory. As members, individuals and their families gain exclusive access to educational opportunities, engaging events, and special recognition by the McCormick Observatory. Whether you're an amateur stargazer, a seasoned astronomer, or simply someone captivated by the mysteries of the universe, our membership is suited for anyone. By joining, you not only connect with fellow space enthusiasts but also contribute to the preservation and advancement of this historic institution. You are ensuring that future generations can continue to explore the wonders of the night sky through our historic telescopes. 
The allocation of membership funds within the Friends of McCormick Observatory supports several pillars of our mission:
Maintenance and Preservation: A significant portion of the funds is directed towards the ongoing maintenance and preservation of the McCormick Observatory's facilities and equipment. This includes ensuring that telescopes, domes, and other observational tools are in optimal working condition, as well as preserving the historic aspects of the observatory.

Educational and Public Outreach: Membership funds often support educational programs and initiatives aimed at fostering an appreciation for astronomy among the public, students, and schools. Workshops, lectures, and other educational outreach efforts are included in this mission.

Endowment and Future Sustainability: Some membership funds may be set aside for building an endowment or reserve fund to ensure the long-term sustainability of the observatory. This financial security helps guarantee that the observatory can continue its research, educational, and outreach activities for years to come.
Members of the Friends of McCormick Observatory can take pride in knowing that their contributions directly support the observatory's mission and play a crucial role in advancing astronomical research, education, and public engagement.
By joining the Friends of McCormick Observatory, a non-profit membership organization established to promote and support the education and public outreach activities in the Department of Astronomy, you will:
Lend your voice in support of the exceptional educational programs developed by the Observatory
Help the Observatory to expand its educational and outreach programs
Help the Observatory remain available to all residents and visitors for years to come
Receive special benefits and recognition
Membership Levels
Basic Individual
Complimentary invitations to McCormick Observatory members-only public nights
Complimentary invitations to members-only lectures, receptions, and exhibit previews
Guaranteed admission to the April and October Fan Mountain public nights
Monthly e-mail newsletter
 Dual/Family
Basic membership for two adults, and children under age 18
 Stone Fellow
Same benefits as dual/family membership plus:
Invitation to special members evening at Fan Mountain Observatory
 Mitchell Contributor
All of the above benefits plus:
Getting started in astronomy kit and astronomical calendars
Recognition in the Observatory's newsletter and annual report
 Alden Benfactor
All of the above benefits plus:
Complimentary Fellow membership to give as a gift
Emma Williams Benefactor
All of the above benefits plus:
Rental privilege for hosting a private event at the Observatory at no charge (charges for security and catering apply and are not discounted through the Observatory)
 Fredrick Associate
All of the above benefits plus:
One scheduled private viewing session at the historic McCormick Observatory
 McCormick Trustee
All of the above benefits plus:
Recognition on a plaque at McCormick Observatory
One evening observing session with a UVA Astronomer at Fan Mountain Observatory
Membership in the Rotunda Society of UVA